In this guide you will find everything needed to register and begin using your new voicemail account provided by Platform28. 
When you have been notified that your account has been created, you will first need to register your account in order to begin using the system.
Account Registration
Follow the steps below to register a new account. If you experience any issues, contact your administrator for assistance. 
Navigate to

www.gavoicemail.com

Click on Register New Account

Enter the requested information

First Name
Last Name
Country
Timezone
Address
City
State
Zip Code

Click Next

Enter the requested information

Phone Number to Register - This will generally be your desk phone number. If you are unsure of which number is associated with your account, please contact your administrator.
Pick a User ID - Choose a User ID that will be easy to remember. Once you have access to your account, you will not be able to change the User ID. Keep in mind that your User ID is case sensitive.
Email Address - Enter your company email address.
Mobile Number - Enter your cell phone number.
Set a Password - Enter a password. Your password is case sensitive and should adhere to the following requirements:

Minimum of eight (8) Characters
Must contain at least three (3) of the following: Uppercase, lowercase, number, or special character.Confirm Password - Re-Enter the chosen password

Set Personal Identification Number (PIN) - Enter a minimum of four (4) and a maximum of ten (10) digits which will be your password for voicemail access via telephone.
Confirm PIN - Re-Enter the chosen PIN

Click Register
Your account is now registered and you can begin using Platform28 GA Voicemail. You will be redirected to the login page.
Mailbox Navigation
Great! You've registered your account! Now it's time to take a tour and ensure you are familiar with how to navigate through your mailbox and the options available to you. We will talk about how to setup some of the options later, but for now let's take a look around.
Navigation Panel
The Navigation Panel is located on the far left hand side of the screen. From here you can navigate between your Inbox, Account Settings, Address Book, Help Center, Idea Center, and Log Out. At the very top in the grey toolbar, you will see a hamburger icon in blue. This icon is used to expand and collapse the Navigation Panel. You can opt to either see icons only or icons and titles. The menu option currently in use will always be highlighted in green.
Inbox
Upon first logging in, you will see your personal inbox.  This is where your voicemails and faxes will be displayed. You can view only voicemails or only fax documents by clicking on the available options on the Inbox navigation panel. Most GA Voicemail mailbox messages will remain in the Inbox for a maximum of fourteen (14) days unless you save them. If you delete a voicemail or fax it will be stored in the trash folder for a period of ninety (90) days before permanently being deleted. If you manually delete a message from the trash folder, it is permanently deleted and cannot be restored.
Note that your organization is at the top of the screen and the last mailbox update date and time is listed to the far right.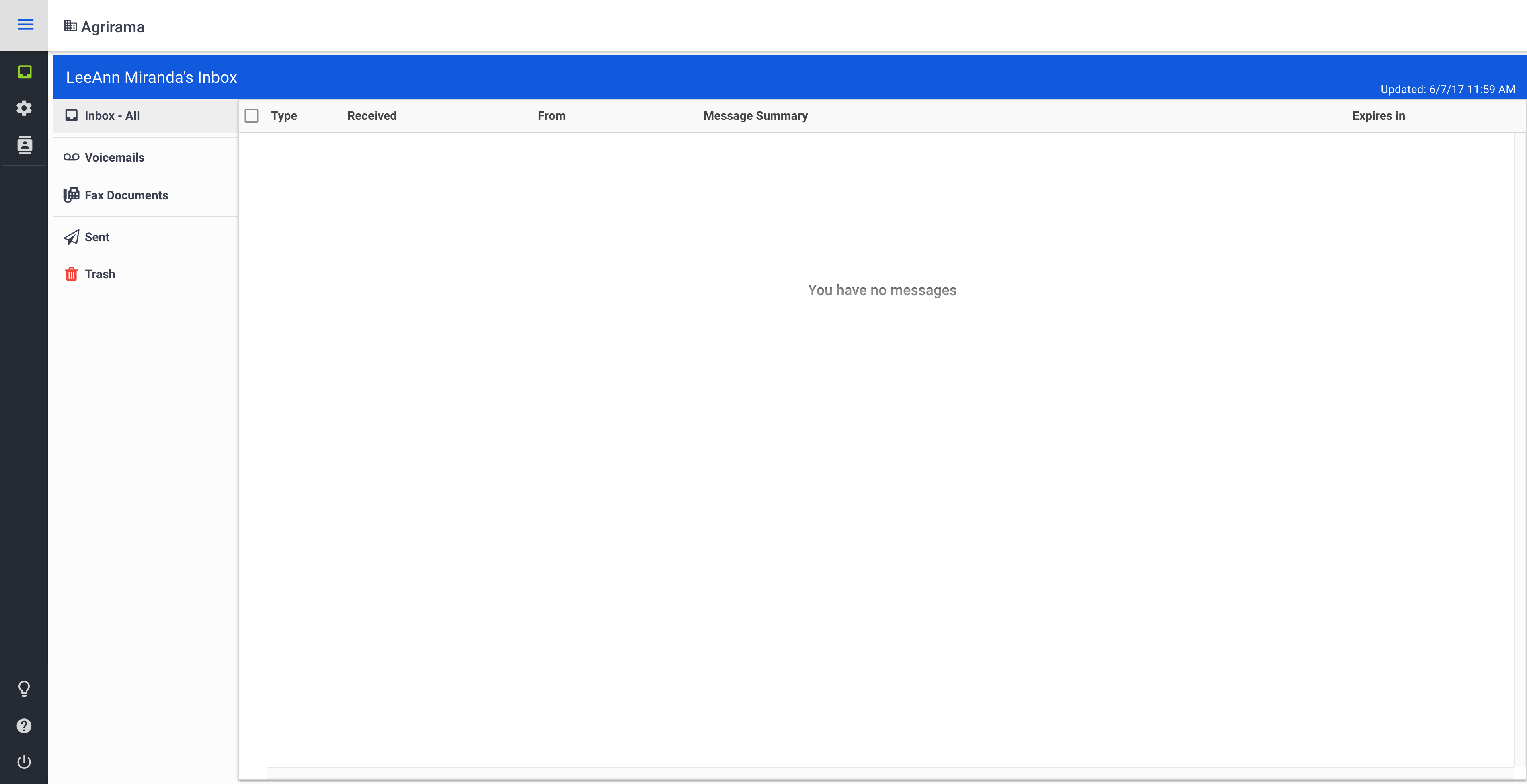 Account Settings
Account Settings is used to customize your mailbox. This section will walk you through the basic options available.
General
The default start page for Account Settings is the General tab. On this tab you can see your account overview, the last time you logged in, and your personal information. You can make updates to your account information from this page. Notice you have a separate access number for your mailbox under My VM Access Number. This is the number you would dial to access your voicemail from a telephone.
This is also where you can record your name. It's important to record your name so you can ensure the caller is hearing the correct pronunciation. If you choose to use default greetings versus recording a personal greeting, the system will use your recorded name to identify you for your callers. If you do not record a name, the system will generate the recorded name using text-to-speech.
Note: Throughout the site you will see a question mark next to certain items. The question mark is a tool tip. Hover over the question mark with your cursor and the tool tip will appear. Click on the x in the top right hand corner of the tool tip to close it.
Mailbox
There are several options to choose from on the Mailbox tab, but the most important one for you to set right now is your personal greeting. 
Your outgoing greeting can be completely customized. You can also setup multiple greetings and schedule them so different greetings play at different times. To start, make sure you enable your Greeting Set by ensuring the blue slider is positioned on the right. Name your greeting with something you can easily identify in the event you have more than one. For example, you could have one for during office hours and one for after office hours. To create multiple scheduled greetings, click on Add Another Greeting Set. 
You can either upload a .wav file no larger than 5MB, or record a personal greeting directly into the system. To record a personal greeting directly into the system, click on the microphone button. You need to ensure you have recording capabilities enabled on your workstation and use either a headset or standalone microphone.
Click on the microphone icon to begin recording.
Click on Start Recording
As you record your greeting, you will see the sound waves populate in the screen which will depict the volume at which it is recording your voice.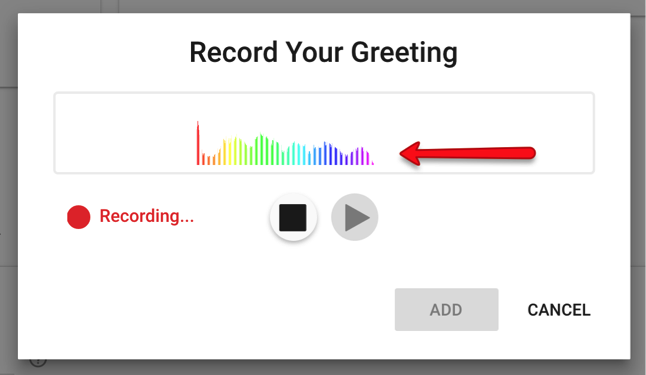 When you are finished speaking, click the Stop button.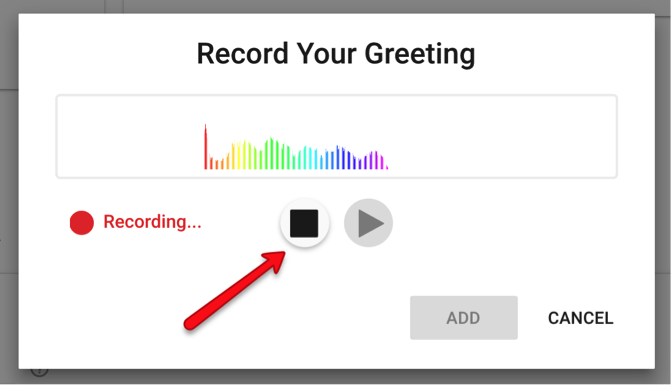 You can see that the system recorded your message, and you can listen to the outgoing greeting by pressing the Play button.
If you are happy with your recording, press the ADD button.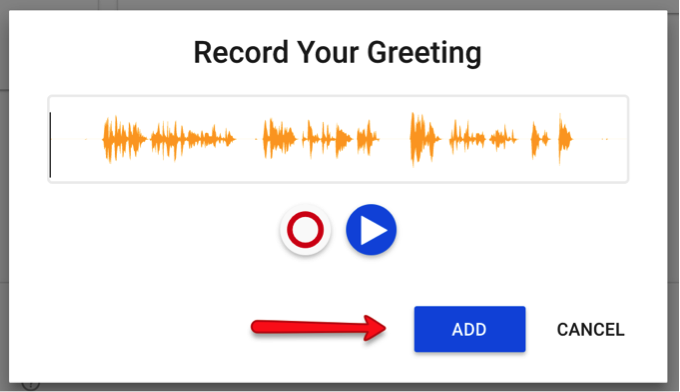 Your greeting has now been saved to the greeting set.  
In order to put the greeting set into place, click on Save Changes.
Address Book
The address book is where you can keep your contacts. Just click on Create Address Book and you can begin adding contacts.
Idea Center
Our Idea Center is available to all users so you can tell us some of your ideas on how we can improve our products. From the Idea Center, you can keep track of your ideas, see other ideas, and the plan for the ideas.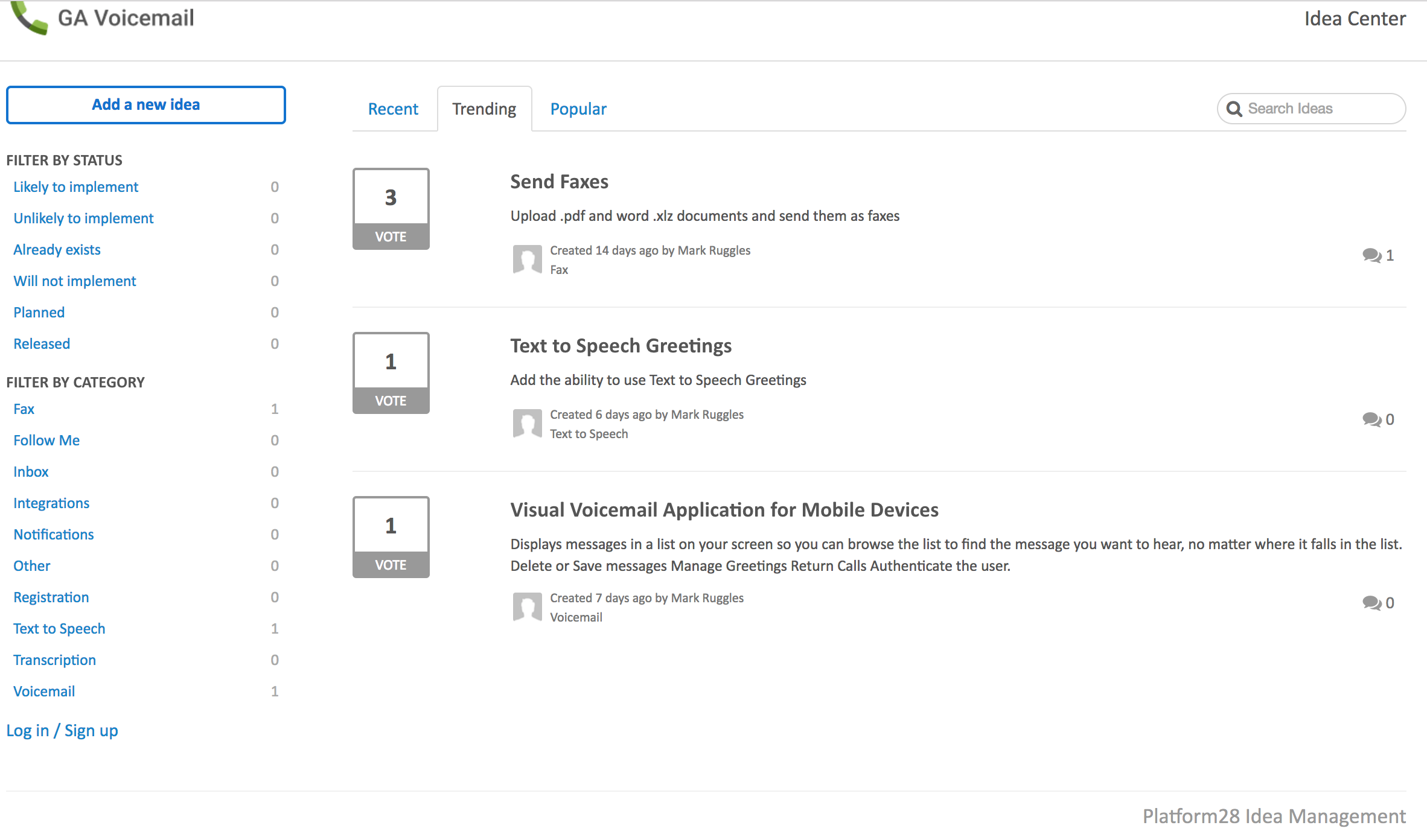 Help Center
When you click on Help Center, you will be taken to the Platform28 Help Center. From the Help Center you can find things like Release Notes and the Platform28 Knowledge Base.
Checking Voicemail Remotely
If you do not have access to the internet or the GA Voicemail Portal, you can still check your voicemail and manage some of the administrative options by dialing in from a telephone.
Access Steps
Dial your Voicemail Access Number.

If you did not dial in from your desk phone or a phone that is configured under Recognize Me, you will be prompted to enter your Desk Phone Number followed by the pound key.

Once authenticated, the system will greet you by your Recorded Name and let you know the number of Voicemails and Faxes currently in your Inbox.

You will be prompted to enter your PIN followed by pound to continue to additional options.

Press 1 to Listen to New Messages

Press 2 to Listen to Saved Messages

Press 3 to Listen to Recently Deleted Messages

Press 4 to Listen to Personal Options
Note: If you do not have New, Saved, or Deleted Voicemails, you will not hear those options when accessing your mailbox.

Personal Options
Press 1 for Greeting Options

Press 2 for Recorded Name

Press 3 for PIN
Greeting Options
Press 2 to Record a new Greeting

Press * to Return to the Previous Menu
Recorded Name Options
You will be prompted to record your name and press pound when completed.
Press 1 to Save your new recording

Press 2 to Re-record your name

Press 3 to Play your recording
PIN Options
You will be prompted to enter a new PIN then press pound. Your pin must be greater than four (4) digits, but less than ten (10) digits.
Press 1 to Save your new PIN

Press 2 to Enter a different PIN
This concludes our tour!
If you have any additional questions on how to get started, please contact your administrator.